Proofer – A new way to claim your valuables using a mobile app
It's a fact, people that lose sunglasses or small gadgets whilst on holiday often don't bother with their insurance claim, as it's too much hassle. Nearly 80% of the Dutch people who have ever lost an iPad, for example have never declared their loss with their insurance company. This is what I learnt from a recent article on a news site. Nothing special I thought, until I thought about the reason why. Why would anyone not want to claim the loss of a device costing approx. 600 EUR from their insurer? Do we all earn enough money, is there not a crisis or do we simply have more than one device we can always use nowadays? I think none of the above !
I believe lost iPads and other valuables are often not claimed because it simply takes too much time and hassle to do so. We are insured and that feeling of safety is enough for us, it seems. It's apparently too much effort, time and trouble to look for those receipts again, and figure out  the policy number and as always you'd probably need to fill out a dozen forms too!
It's not just iPads. At my place there are also all kinds of other so-called gadgets & valuables: Smart TV's, jewellery, streaming devices, laptops, tablets, cameras, smartphones etc. We are all fans and large users of nice goods and as we know all too often and for whatever reason loss, damage & theft can all happen.
Anyone who has ever claimed something from an insurance company will probably also recognize the annoyance that arises when you get into a discussion over the amount of compensation that is applicable. Therefore I am very pleased that there is now an app now that will handle the claim process for me at least.
The insurance app, Proofer, which we've developed purely to overcome some of the thoughts and annoyances mentioned above.
With Proofer you can register all your gadgets and other valuables in the app.The registration process is simple: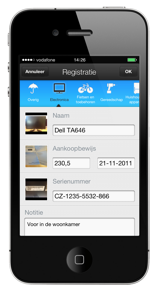 1. You choose the category of the product that you want to register. You then take a picture of the newly purchased product, a picture of the receipt and serial number.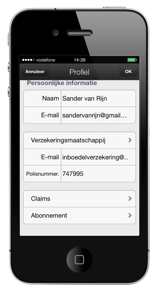 2. Next, you create a profile. Select the appropriate insurance company and then enter the policy number along with the email address of the insurance company.  
3. When you have a product you need to claim on, simply look it up  and hit the "claim" button in the app and start the claim process (select product, create pdf, and send).The Proofer app is fast, efficient and offers optimal proof of purchase.
For me personally, this app helps me administrating my valuables and the proof about its purchase. But Proofer is not only interesting for clients or insurance companies. It will also be possible for insurance companies to distribute their own version of Proofer, simply providing a better customer experience.
Hopefully most insurance companies just want to have the least possible annoyances arise during the claim process for their customers and ultimately ensure that their customers can make their claim accurately & efficiently. But there is more. I think Proofer also provides insurance companies the opportunity to market (up sell) to their customers too. Not that I am counting on endless sales pushes but imagine that I purchase an audio system worth 20.000 EUR. The first thing I do is record this purchase in my app. It's not likely that the full 20.000 EUR is covered in my standard insurance. So assuming I have given the insurer permission to view my stored items in the app, then it's possible for the insurance company to contact me to tailor an offer to provide maximum coverage for my purchase. This way both parties benefit.
Apart from the fact that Proofer can be linked to any existing claim handling system, and will increase efficiency, the app I think will increase the claim experience for customers as a whole.
Proofer is currently only available in the App Store and for more information visit our website.