We're moving to a new office!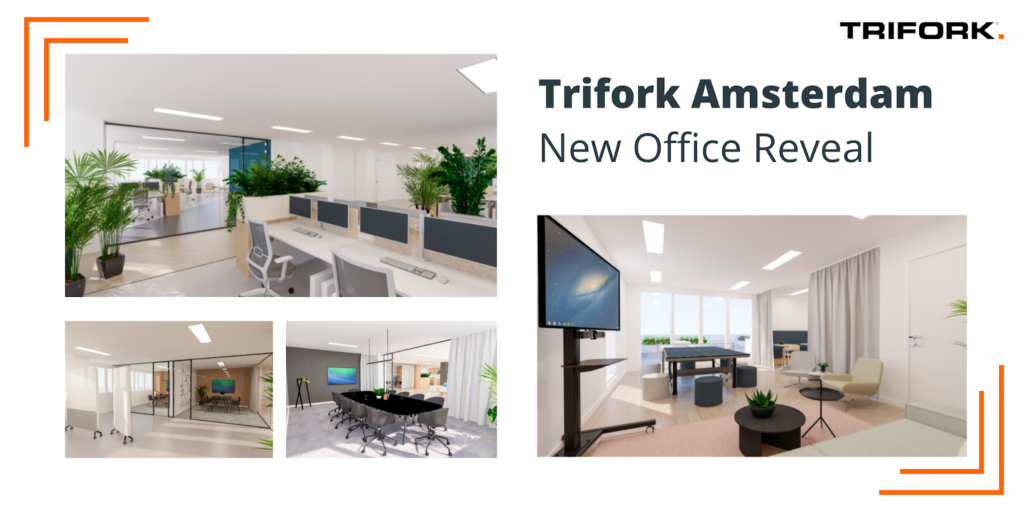 The past year has posed challenging times for everyone, both in a personal and professional sense. With the light at the end of the tunnel getting closer, Trifork has news that makes that light shine even brighter (at least we think so!). It's out with the old, and in with the new: Trifork Amsterdam is moving into a new office this September!

Working alongside design agency Ditt, we expect plenty of new additions to the office. For all the ins and outs of our move, we sat down with Frank Groot, the CEO of Trifork Amsterdam, to discuss the why's, what's, and how's.

The first and potentially biggest question: why are we moving?

Frank: This is actually the easiest question! At the end of 2019, our existing office building was sold to a new owner that indicated they are planning to renovate the space. This meant that we would have to stay in the building while the renovations were taking place –– this translates into a lot of noise and an unpleasant work environment. So we had the choice of either moving out temporarily –– which involved two office moves –– or moving out completely. I had a good feeling about making the big move and that was it. We chose to move entirely.

What were some important considerations in terms of the new space layout? Which features were non-negotiable?

Frank: We had a few non-negotiables. For security reasons, more specifically ISO 27001, we wanted to have a designated room that only people with the right clearance could access. In the new office design, we can achieve this with a glass wall. So while there is a physical separation, it's still quite open. However, screens containing sensitive information will not be directly visible from the outside.

Another feature we wanted for certain is the possibility to host training sessions. We like the fact that we can host both training sessions and meetups in our current office, so we wanted to implement that in the new office layout as well. We reserved a part of the building to create a training room, which can be converted to a larger room that can host meetups in a similar fashion to the way we currently host them.

In terms of design, we wanted to create a cosy office space. We also wanted to incorporate lots of plants in the building. These will complement the wood finishing on the floors, the various shades of grey, and the petrol-like, bluish-grey tones on the wall. These earthly colours make the place easy on the eyes.

How does the new office account for the pre– and post–covid environment?

Frank: By conducting short surveys, we learned that more than half of our colleagues find it a priority to come back to and work from the office. After all the remote work we know that people will, next to working on location, very much look forward to social interaction with their colleagues. Yet, they will still appreciate staying home for one day for more focused work, so we expect a lower occupancy of the office than we had pre-covid.

To adjust to this new way of working, we'll have fewer fixed workplaces –– which include adjustable standing desks and desk cycles –– and more room for flexible work and collaboration. We made sure to include lots of spaces for social interaction, with cosy seating areas, informal meeting setups, and other spaces of similar nature.

Moreover, we'll have larger tables without monitor setups with some desks reserved for flexible working. While we'll still have a few meeting rooms, these will emphasise collaboration –– hence they will include big, writable walls and standing meeting rooms. We'll also have a larger pantry; this area will provide comfortable seating where we can enjoy hot beverages and refreshments while socialising.

Cool! I'm excited to see the new developments and what the new office will look like. Thank you for taking the time to tell me all about it, Frank!

With big changes coming our way Trifork employees are eager to re-enter the office in a fresh working environment. We sure will enjoy the extra movement, multiple social areas and all the other great additions to boost productivity!