Greetings from my hotel room in San Francisco, from where I'm writing this blog post. Right now it's Tuesday evening and it has been two exciting days at the WWDC which takes place this week from Monday the 8th until Friday the 12th of June as I had announced earlier. Although I have three more days to go, I already wanted to give you guys an update on how everything has been going so far.
I have so much to talk about so I am trying to be brief, but I can already tell this isn't going to be a short blog post. So get a cup of coffee, get a comfortable chair, sit back and relax. Are you ready? Here goes …

Before the conference started
Before diving in I want to tell you something about everything that happened before the conference started. It all started Saturday morning (5:15 CET), my alarm clock went off, way too early considering it's a weekend day. Although I only caught 4 hours of sleep because of all the anticipation, I woke up fully awake and jumped into the shower. My father-in-law was so kind to drive me to the airport with my car. Checked in my luggage, went through the security check and finally checked into the plane. But oh no, of course I was 'randomly' selected for an 'extra security check'. Because… it's the USA. Bag open, shoes off, checking for cocaine… But eventually I made it on board of the plane. It was 9:30 and my plane was going to take off at 9:50.
I had to spend 11 hours on that plane, I have never been on a plane that long before. Luckily I found some nice people on board I regularly had a chat with. Also there was lunch and dinner on board and movies and tv shows to watch on the on-board entertainment system. One of the people I talked with was also someone attending the WWDC conference! I don't know how I survived, but I did. Eleven hours later I landed, had to go through security AGAIN, had to fill out a customs form with THE SAME DATA I had already filled in twice before. But okay, it's the USA.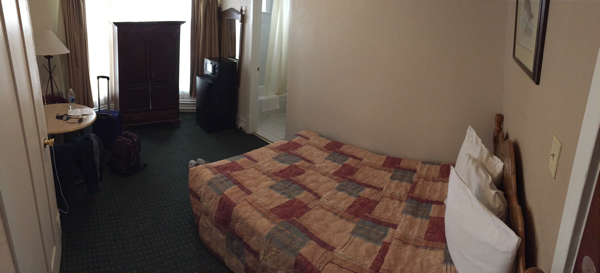 After landing I had no clue how to get to my hotel so I sat down and tried to find out how to get there. I soon discovered I had to take the BART subway. When I arrived I dodged some homeless people trying to 'help me' get to my hotel and walked like 8 blocks up a steep hill to get to my hotel. I was exhausted and very scared my hotel would be a dump. It wasn't that expensive after all. But it turned out to be perfect! Everything I could have wished for was there. A king size bed, clean sheets, refrigerator, microwave, TV, a table with 2 chairs, a lamp, toilet, shower, a sink, a bath, electric sockets to charge my devices, curtains I can close, a closet for my clothes and enough space for me to not feel claustrophobic. So far so good!
The first one and a half days I spent getting used to the new time zone, resting from the flight and acting like a tourist! So I took the cable car and drove to Fisherman's Wharf. Great experience. I also explored the city by walking everywhere and discovering what was where. Back in the Netherlands I took 3500 steps a day according to my watch, but here I take 12.000 (~12 km) to 18.000 (~18 km) steps a day. I will certainly lose some weight this week.
OMT meetup and the keynote line
Before the conference started there was a meetup organized by OMT I was attending which took place in the dutch consulate of SF. I met some interesting dutch people there who were also going to the conference while drinking some nice special beers out of tall glasses and eating peanuts. We also discussed what our strategy would be to get a good seat for the famous keynote talk the next morning. It turned out most people were going to get in line at 6 o' clock.
Stubborn as I was, I didn't want to go to stand in line as 'late' as 6 o'clock. The keynote was going to start at 10 o' clock and I didn't want to miss my chance to get a good seat so I decided to queue up at 3:30. I had quite some fun. Met some interesting people in line and overal there was a great vibe. Walking to the queue was a bit scary, as people already warned me to not walk the streets at night because of agresive homeless people. Luckily I only encountered one and successfully avoided him. Anyway, long story short, after a long long wait I managed to get a good seat in Preisido, the conference room at the third floor of Moscone Center West where Tim Cook and other executives would announce exciting new things in the world of Apple.
Conference day 1
Day 1 consisted of three talks:
Keynote address – this is the most exciting talk of the week
State of the Union – this is basically 'keynote 2' as I like to call it. Great other, more technical, things are announced in this talk
Apple Design Awards – this one is just fun to watch. We see 10 amazingly designed apps that win an award. The developers of those apps are there to accept the award.
After watching the live stream of WWDC's keynote at home I finally got the chance to see it live, see Tim Cook for real and all the other famous Apple people. Even Jimmy Iovine (founder of Beats) made an appearance to make an announcement ending with a surprise live performance of "The Weekend".
The keynote was divided into three topics: the new iOS, new Mac OSX and the new version of watchOS. The overal subject was performance and experience improvements, except for watchOS but I will get to that later. Lots and lots of great new user experiences were added to both Mac OSX and iOS. Too many to tell you all about in detail. So I will mainly highlight the things I found most interesting.
iOS 9
Since I am an iOS developer, iOS 9 is obviously the most interesting part of this conference. Lots of new features and API's were added. To highlight all the things that excite me the most:
iPad apps now can multitask!!

Like rumours predicted, apps can now run side by side on iPad. Apps can either take up one third, half or all of the screen. Just by swiping from right to left you an bring in another app. With a four-finger swipe you can switch each 'column' to a different app. Apps

Siri is way smarter

Siri is now a "Proactive Assistant" which works a lot like Google Now. It's proactively helping you in different places throughout different apps. Example: if you get a call from someone you don't have in your contacts, but it was mentioned in an email you received recently, that name is shown. Other example: time to leave reminder for an appointment in your calendar, taking travel time into account. And you can ask Siri things that are in context to the thing you're doing right now. So you can ask Siri: "remind this to me later" when looking at an email for example and a reminder will be created with that email attached.

Spotlight extension

Third party apps can now index their own content to be able to be searched through by the Spotlight feature of iOS. So next to apps, Wikipedia entries, contacts, messages and emails, content from third party apps can now also be made available in there!

Lots of UX improvments

All new app switching, which feels really smooth (I installed the beta) and looks really great with its blurring effects and 3D 'cards' style of scrolling through all apps by double clicking the home button.

All kinds of animations through the system look a little nicer, are a little faster. The keyboard is way more responsive and I can already tell I can type A LOT faster with this keyboard. Also it doesn't highlight each letter anymore like it did before. Instead, the key itself just lights up by graying out the key. Search now has "suggestions by Siri" which is part of the proactive assistant feature which can be anything from apps you probably want to open, to contacts you might want to call or message. Overall iOS feels faster and using lots of tricks and optimizations, iOS 9 makes your iPhone last 1 hour longer on a single charge.

Notes app hugely improved

Next to just typing plain text in Notes, you can now drop in links which will show a thumbnail and a preview of the website you're linking. If you make a bullet list you can mark each of the items in that list as completed, you can make drawings with your finger and lots more. As I use Notes a lot for everything (because it syncs really well between my iPhone, iPad, Mac and the web) I find this very exciting!

iOS Maps now have transit data

Although it will only be available in major cities around the world right now, it is nice that also Apple finally decided to make this part of Maps like Google was already doing

Newsstand is replaced by News

Newsstand wasn't used much so it was time for something new. News is the answer and it looks to be a lot like Flipboard, the popular iOS news app. It looks really nice, content animates into screen as you scroll down to read the article and lots of other nice features. I like it and might use it!

Swift 2

We can now use an updated version of Swift with lots of improvements. Also Apple decided to make Swift open source! (starting this fall) So we might see this language pop up for more use cases than iOS and MacOS from now on! That is great news because I truly think this is the best language I have used on any platform so far.
Mac OSX 10.11
The new version of Mac OSX is called 'El Capitan', named after another big beautiful national park in California, just like Yosemite is. Am I the only one who thinks this name is really silly? Oh well, I had the same feeling with Yosemite and that also feels really natural right now so it will probably be alright. This also is mainly an experience and performance improvement update. But what's new?
Apps can run side by side

Like on iPad, Mac OS now also has an easy way to run apps side by side. Which is really well implemented. You can easily drag & drop apps into different side columns of different desktops etc. You really have to see it in action.

Wiggling the mouse cursor makes it bigger temporarily

We have all done it. You can't find your mouse cursor and wiggle it around a little to notice it. It's a little thing but it looks really fun. The mouse cursor gets temporarily bigger when you do that on Mac OS from now on! Which makes it easier to spot.

Pin tabs in Safari

Safari now has the ability to pin tabs in a very intuitive way.

Mute sound browser wide

You are opening some links and suddenly Rick Astly's "Never gonna give you up" starts playing. Which of my tabs is playing this?? Luckily you can now mute everything and Safari will even tell you where the music is coming from

Speed improvements

1,4x faster app launch, 2x faster app switching, 4x faster opening PDF in preview, etc

Metal for macp>Metal, the OpenGL replacement which sits right on top of the GPU, instead of being an abstraction like OpenGL, makes rendering 3D graphics many times faster like it did on iOS a year ago. This is not only great for games, but also for 3D editing tools. Adobe even reports a 8x speed improvement when they rewrote some of their tools using Metal
watchOS 2
The watch has been released 6 weeks ago, and already a big update will be released for the watch. The main topic is NATIVE APPS. This makes the watchOS really mature. Right now third party apps are very slow because all computing is done with an extension within the iOS app. All communication with the UI occurs over Bluetooth, which is not that fast. It was probably a temporary solution until Apple finished creating native app support.
In addiiton to third party apps being standalone and way faster, third party watch apps can now:
access the microphone
playback using the speaker
play short video content
access healthkit
access homekit
access the accelerometer
use the taptic engine
use the digital crown for input
Also watchOS itself has some improvements of its own:
New great looking watch faces which display photos of your choice or timelapse videos
Developers can make their own complications now (little informational pieces in each corner of watch faces, like the current weather, battery and your workout status)
Time Travel: a great way to see what's coming up. You have to see this in action. It's well implemented. I think this is an answer to Pebble's timeline feature
Night stand mode: you can now put the watch on its side to make it function like an alarm clock with a corresponding UI for it. The side buttons function as snooze buttons.
Use Siri to access homekit, so you can for example ask Siri to turn off the lights in your home
Third party apps can now contribute to the famous workout 'rings' (exercise, movement, standing)
Read contents of incoming e-mails and send new emails directly from the watch
One more thing: Apple Music
And in the end Apple Music was announced, but for some reason I couldn't really care for it. It is basically Spotify for the same price, and probably a lot more clever and better integrated into iOS (for example Siri integration). But I have to use it to get excited about it I think.
To finish up
I also wanted to go into what was announced during the "State of the Union" talk that was given right after the keynote, which contains more technical stuff but I think I reached the maximum amount of words I should put in a single blog. So more about that stuff later!
Talks I want to go see the rest of the week:
All WatchKit related talks
All Swift 2 related talks
All iPad multitasking related talks
All auto-layout related talks
And a talk called 'Advanced Touch input on iOS'
Also I want to make use of some labs. Labs are there to meet Apple developers that wrote different part of iOS/MacOS frameworks who can help you out with whatever coding problem you have or other topics.
App Store marketing lab – to get tips on marketing my apps
User interface lab – to get feedback of the UX of my apps
I have questions about how to do Auto Layout in a less verbose way, need to find an appropriate lab to ask questions about that
and maybe some more labs, but I need to think of problems I have
Most exciting week of my life
This week has so far been the most exciting week of my life and I'm looking forward to the rest of the week. Like last time, I can't promise when I will write my next blog. I was planning on writing this blog yesterday but it turned out I was way too exhausted to do so. So I can never predict when I have time and enough energy to write one. It's not a question if I will write one, only when I will write one. So again stay tuned!